Package comes complete with the 5.5 HP gas engine fire pump, 100 feet of fire hose, nozzle (fog to stream settings) , 12 ft. of PVC suction hose, all fittings already assembled, and deluxe wheel and handle system for easy portability and storage.
Fire Pump Features:
2.8 hours run time on a full tank
EZ Maintenance
Corrosion Protected shell
Heavy Duty Steel Frame
California & EPA Approved!
Specifications:
5.5 Horsepower
196cc 4 stroke single-cylinder Champion engine (which is a Honda Clone) Why Pay 4 times more for the Honda name?
Air Cooled
2" Input / Output Port, WITH backflow check valve
Pump Overhead Lift: 98ft
Suction height: 26ft
Fuel Tank: 0.9 gallon and 0.6-quart oil capacity
Run time: 2.8 hours on a full tank
Gallon Per Minute: 158
Semi-Trash: Capable of passing solid waste up to 9/16 inch in diameter
Pressure: 73 PSI
Decibel: 65dBA
Weight: 66 lbs
California Emissions & EPA Approved
2 year limited warranty
Fire Hose Specifications:
Our fire hose is 1-1/2" high quality single jacket fire hose
100 feet of hose
Intended for industrial fire protection use
Hose has a synthetic rubber liner
100% polyester yarns prevent mildew
Hose has 300 PSI test pressure and a 150 PSI service pressure
Fire hose comes standard with an FM label
Hose comes coupled with HARD COAT ALUMINUM couplings (NST) threads

Update 11/9/18: We just received a fresh shipment of Fire Pump Systems to accommodate the increased demand from the Woolsey Fire incident in Calabasas / Ventura California. Call 888-766-5627 for a free consultation before you buy or for an exact shipping ETA.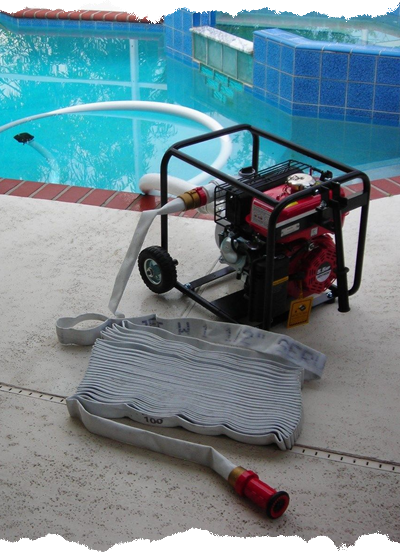 Price: $1,195.00
In Stock